Ratti Galli(رتی گلی)is one of the most popular travelogue books by Mustansar Hussain Tarar(مستنسر حسین تارڈ). It was published in 2014 by Sang-e-Meel Publications. This Safarnama book is very easy to read and contains 256 pages.
Mustansir Hussain Tarar is a renowned travel correspondent in Pakistan. He has written more than fifty books. He is most known for his travelogues and novels. He was also a dramatist, fiction writer, and actor. Mustansir Hussain Tarar is one of Pakistan's most popular writers.
Ratti Gali Book Summary And Review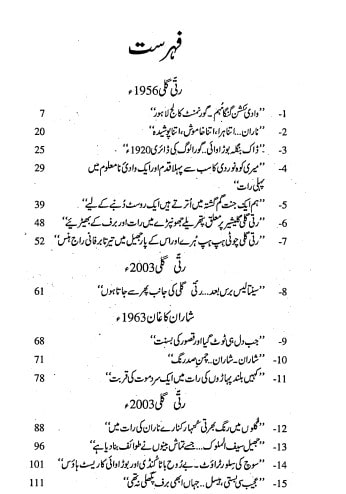 "Ratti Galli" a travelogue of Kaghan Valley & Azad Kashmir.by Mustansar Hussain Tarar. Throughout the book, he describes the natural beauty of the Kaghan valley and Azad Kashmir. He visited Pakistan's northern regions many times. He described these places as heaven on earth.
Mustansar Hussain Tarrar recalls his first visit to Ratti Gali in the 1950s, and then his visit 47 years later.
In the book, the author shares his experience of visiting Rati Gali lake and the valley. Throughout the book, he explains the natural beauty and scenery of this area. The Kaghan valley is also discussed in the book.
The author has illustrated all the scenes in this book. Naran's nights, Lake Saif-ul-Malook, and the moonlight that covers its serenity. He wrote about serenity in his writings, including the snowy lakes and green mountaintops of Ratti Gali.
The village was on the outskirts of the Kunhar River, where he would stop to catch trout fish. The yellow light of the sun filtering through Lake LuluSar. Lake Swan. Horseback riding on tops. A soulful setting.
You Also Read Urdu Fiction Books
Namal Novel By Nimra Ahmed
Ali Pur Ka Aili By Mumtaz Mufti
Download And Read Ratti Gali Book Online In PDF
I hope you enjoy reading Ratti Gali Pdf by Mustansar Hussain Tarar and you will share it with others. On this website, you can access Mustansar Hussain Tarar's books in pdf format. You can download and read online this Urdu Safarnama Ratti Gali in PDF format. Visit this site daily to download Urdu Safarnama Books.